A Culture of Improvement at Cleveland Clinic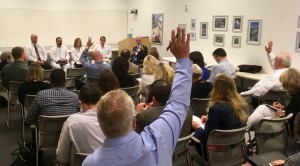 I had the opportunity to attend a recent meeting at the Cleveland Clinic sponsored by the Catalysis Healthcare Value Network. This was my second exposure to the continuous improvement work at Cleveland Clinic, the first being a session focused on the process improvement in their finance department, two years ago.
A lot has changed in the last two years.  The leadership at this large healthcare system understood they could have a much greater impact on process improvement if they were able to have all 55,000 team members become actively involved in the process.  While they were making progress with the continuous improvement team through project work and helping leaders make significant gains, they wanted to leverage their work by spreading the improvement mindset to everyone.
The process they use to use to spread this engagement is documented in a recent white paper published by Catalysis entitled "No More Projects."
What I learned during my recent visit was that it took a massive effort to change the mindset of so many people.  It's not that anyone comes to work wanting to do a bad job, but making changes is hard for a single person to do in an enormous healthcare system.  During our visit, we met with various teams of leaders within the system. One group (pictured above) was the nursing managers who are responsible for thousands of patients, and were now being asked to spend part of their day to partake in continuous improvement.
These leaders all kept an open mind but one manager admitted he was not so open at the beginning. He initially questioned, "why are you doing this to me?"  He had to change his thinking that they were not doing anything to him, but instead giving him the opportunity to think more about the root cause of the issues, and move beyond work arounds.
The continuous improvement team found it worked best when they went to the managers' home turf. The nurse managers were coached on how to use standard work to drive their day and organize as much of their day with mindful calendar planning, instead of dealing with every problem as it would arise.
Each team created a safe place to experiment and gather feedback on new ideas, using kaizen cards and a kaizen board.
One of the key behaviors that help spread this culture of improvement was the ability of team members to be vulnerable so that they could feel safe talking about problems and making problems visual.
No effort this big could be done without resistance to change. To address this behavior, change management training was built into all portions of the education so they could deal with this ever-present resistance.
Each nursing manager was coached on the best way to use standard work, visual management, audit tools, and ensure they were using the best metrics to measure the team progress. On the simpler side of improvement, each team member added the following questions to the back of their ID cards:
What is the target condition (goal)?
What is the current condition?
What obstacles are in your way? Which one are you addressing now?
What is your next step?
When can we go and see?
The following reflection questions were included as well:
What did you expect to happen?
What actually happened?
What did you learn?
These "Badge Backers" as they are called at Cleveland Clinic, provide a constant reminder of how simple but important this culture of improvement is to their organization.
The nurse managers said that this way of thinking wasn't easy to grasp. They had to practice it every day in every situation until it became routine.  They also needed to continue to be curious as to why things happened the way they did. This curiosity was exhibited by asking humble inquiry questions to better understand the problems they would encounter.
If there was one theme that continued with all the questions being asked of the nurse managers during this meeting, it was that we all wanted to know how to get people to change these behaviors.  Their answer was to find people who exhibited these positive behaviors and model your behaviors after them.  Many of the continuous improvement team members were also temporarily embedded into the care teams and provided direct coaching on these key behaviors.
One of the common obstacles to improvement activity is finding the time to improve. Each nursing manager made a commitment to helping nurses cover for each other so they can do some minor improvements.  These "Just-Do-Its," are quick and easy projects that may entail writing some standards or updating an existing document with an improved standard.
It was clear to me that there was genuine excitement around the process improvement culture at the Cleveland Clinic.  The changes have taken time, but all the work was well worth the effort.  I also want to thank our hosts for this inspiring visit, Dr. Lisa Yerian, Vice Chair, Staff Affairs, Medical Director, Continuous Improvement and Nate Hurle, Senior Director, Continuous Improvement.
You can read more about transforming your own healthcare organization in Management on the Mend written by John Toussaint, MD.
Steve Bollinger
Product Director
Catalysis