Gemba-Based Learning
Spending time in the gemba, where the value is created, is an important part of any cultural transformation journey. The lean practice of 'go and see,' or going to gemba, applies to all levels within the organization from the front-line to the CEO. We offer gemba-based learning in two different formats,
Executive Site Visits
and
Go-and-Sees
.
Executive Site Visits
are designed for healthcare executives and their teams to learn about their role in a lean transformation from their peers.
Go-and-Sees
allows participants the opportunity to learn from best practices, experience a culture of continuous improvement, and network with others on the transformation journey. Upcoming Gemba-Based Learning opportunities, include: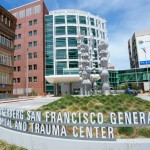 Executive Site Visit at Zuckerberg San Francisco General Hospital and Trauma Center - October 6, 2020
Participants in this visit will observe how components of organizational excellence work together to establish a culture or continuous improvement. They will interact with senior leaders at ZSFG to help them understand the cultural transformation from their perspective. As well as focus on the leadership behaviors that are necessary to sustain improvement.
Hear about their journey from Susan Ehrlich, CEO
Learn more and register
**Executive Site Visits are particularly valuable when an executive team visits together.  Contact us by email or phone 920-659-7500 to learn more about scheduling a private visit.