Already A Member? Login Here.
CHVN Member Access                                            view our members     view our sponsors
In 2017, Catalysis combined its two network member groups – the Healthcare Value Network and Clinical Business Intelligence Network – into a single entity, now called the Catalysis Healthcare Value Network (CHVN). This member-only Network provides valuable access to more than 70 other network members who are on their healthcare transformation journey. Members receive customized content, information, educational programs and other resources used by healthcare leaders and peers who recognize the three critical elements required to achieve sustainable change:
Patient-centered care delivery
Payment and incentives based on value and outcomes
Transparency of performance (quality and cost) throughout the healthcare system
As a Catalysis HVN member, you are invited to learn from your peers. And more importantly, we ask that you share and connect across roles as you continue your organization's transformation.
This Month's Member Highlight: St. Louis Children's Hospital
Catalysis is exploring a new initiative to understand the unmet needs of nursing leaders during lean transformation and create programs to support them during these times of rapid change in healthcare.  Following an early 2017 survey of unmet needs and a listening session conducted at the 2017 Healthcare Transformation Summit, a first experiment was conducted at St. Louis Children's Hospital (SCL) on September 25th.
Leroy Love, SLC's Process Improvement Director, guided twenty-two nursing leaders through a presentation of outstanding examples of tiered huddles as one element of their Lean Management System (LMS).  They also spent time with SLC's Vice President, Patient Care Services, Peggy Gordin, and Rick Majzun, VP Operations, Women's & Infants to understand their personal Leader Standard Work and daily engagement with their teams.
The LMS observed at SLC is in closely aligned to Catalysis's recommendation for best practices, which include the elements shown below, all of which are integrated and built on a foundation of principles and values.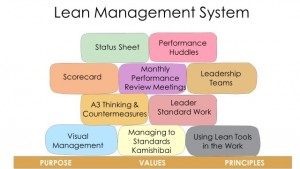 Based on Voice of Customer received at this gemba visit, Catalysis is planning a second experiment, a nursing leadership – focused class on coaching teams and asking better questions, and is exploring the creation of a Nursing Leadership Forum.
More details to come soon on this exciting new initiative at Catalysis.
What We Do
Catalysis will offer special access to information and discussion groups for those who share common interests in specific areas.
Gemba Learning
Structured visits at different member sites, with a focus on seeing actual improvement work firsthand. Learn more.
Lean Healthcare Transformation Summit
Two days of intense learning, thought-provoking keynotes, interactive learning sessions and the industry's best networking. Members get a single free admission included in their membership fee. Learn more.
Collaborative Website
Our members-only website provides opportunities for our members to learn, share and connect with each other. This site also includes examples of documents and tools members have used to help their organizations improve.
Affinity Groups
Member-led work groups around areas of common interest such as the application of lean thinking in areas of: Clinical & Business Intelligence, Revenue Cycle, Finance, Human Resources, Information Technology, Supply Chain Management and Strategy Deployment.
Assessments:
Shingo-Based Assessment
Members have access to the Shingo-based assessment process to help members identify their current state of their lean journey and feedback to move to the next level of cultural transformation. Learn more.
Analytic Maturity Assessment
Members have access to a member-developed assessment that will help identify gaps in your Clinical Business Intelligence program and take action to accelerate your analytical maturity. There is no additional cost for network members.
Webinars
Improvement ideas and stories are shared between Network members through webinars, which allows for exposure to different improvement examples without the expense of travel. These webinars are recorded and available for use by Network members at no additional cost.
Questions? Contact the Catalysis Healthcare Value Network staff:  Paul Pejsa ([email protected]) (920) 659-7469, Brian Veara ([email protected]) (920) 659-7473