Experimental Management Systems
In the spring of 2008, the leadership at ThedaCare recognized they were on the cusp of a necessary cultural shift.  Furthermore, the changes that were coming, based on a series of management experiments, required a deep understanding of how problems were being solved and how decisions were being made.  Like most health systems that were applying lean thinking, ThedaCare was seeing great results, but there wasn't a system in place to sustain their gains.  As soon as the facilitators from the lean improvement office left an area, things would start sliding back to the more traditional work methods.
So, ThedaCare decided to experiment with creating a lean management system that fit the culture of their health system.  They started by developing a steering committee to guide the development of their lean management system.  They also reviewed books like, Creating a Lean Culture, by David Mann, and researched the management systems in place at lean companies like Autoliv.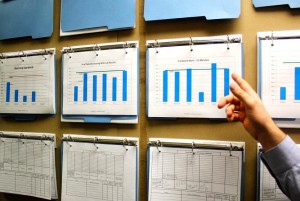 In true lean fashion, ThedaCare knew they first needed to experiment with a lean management system, not just implement the same system other companies had in place.  So experiment they did.  They used A3 thinking to Plan, Do, Study and Adjust. They included Human Resources and the lean facilitators in the experiments.  But more importantly, they planned ahead for problems. ThedaCare knew there was going to be resistance because they were about to change the way managers thought about their job.To study their management problem, ThedaCare used a reverse fishbone diagram.  The head of the fish – where the final effect of all the causes is placed– was defined in a single statement, "Leaders will have a framework to simply and easily manage their business, develop people, solve problems, and improve performance."  The main ribs of the fishbone diagram were labeled Leader Standard Work, Visual Control, Problem Solving & Corrective Action, and Leadership Discipline.
ThedaCare started asking their managers to become mentors. They asked their managers to teach people how to solve problems, not fix everything themselves.  And, ThedaCare leadership started asking ThedaCare managers to treat their area of responsibility like they were running a small business.  They wanted the managers to know how much money was coming in and going out. They wanted the managers to know if the customers were happy, and if not, why.
Because this was an experiment, much of the early activity was focused on a small group with several teams acting as the laboratory.  As the experiment continued, a curriculum of core competencies was being developed that would help spread the people development, business acumen, and the lean tools being used in this experimental system.   As the experiment continued, more and more employees went through the training and their feedback was used to improve the system.  ThedaCare kept revising and teaching the material until they had trained themselves to be different leaders.
The time spent in the experimental phase of this lean management system was invaluable to ThedaCare. People need time to process big changes, to make mistakes, and to find the right pace.
If you are considering implementing a lean management system in your health system, The ThedaCare Center for Healthcare Value offers several different ways to learn about the process.  To begin with, our new white paper,   Collaborative Approach to Healthcare Improvement describes the experiments conducted by several different health systems that wanted to implement their own lean management system.  It can be downloaded here: http://bit.ly/1r5xPxg
The Center also hosts workshops, webinars, Summit presentations, and CEO site visits where you can learn more about implementing your own lean management system. Visit createvalue.org for more information.
You can also read more in our new book, Beyond Heroes, A Lean Management System for Healthcare. Sign up to receive a notice as soon as the book is available in April.   createvalue.org/shop
Steven Bollinger
Director Product Development
ThedaCare Center for Healthcare Value