Tether to the EHR: Primary Care Physician Workload Assessment Using HER Event Log Data and Time-Motion Observations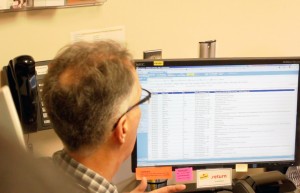 Primary care has become increasingly complex, with electronic health record (EHR) systems adding to the complexity. Our patients expect same-day access for face-to-face care during clinic hours and rapid responses to telephone calls, patient portal messages, laboratory result inquiries, and prescription renewal requests both during and after clinic hours. This concurrent face-to-face and non–face-to-face care, combined with administrative and regulatory work (prior authorizations, billing and coding, performance measurement) results in considerable strain on the primary care team. It is imperative to understand factors contributing to workload and identify practical solutions to these challenges.
US physicians spend numerous hours daily interacting with EHR systems, contributing to work–life imbalance, dissatisfaction, high rates of attrition, and a burnout rate exceeding 50%. Factors such as increased structured documentation requirements, computerized physician order entry (CPOE), inbox management, patient portals, and redistribution of tasks previously performed by clinical staff to clinicians has led to more work that is not direct face time with patients.
Read more: http://www.annfammed.org/content/15/5/419.full.pdf