The Right Measures will Drive Success in Healthcare
A recent Wall Street Journal article speaks of a time during the 1920's when airlines began to offer excellent customer service in the form of personal headphones that tuned in AM stations, seats made of comfortable wicker, and windows that could be opened (for easy waste disposal).  In 1929, one airline even offered in-flight movies.  Later, from the 1940's to the 1960's, airlines added double-decker planes to their fleet which they called "Castles in the Air." These double-decker planes included gold mirrors and fluorescent lighting in bathrooms, and fancy meals served on real plates.  Once the deregulation of the 1980's took hold, however, competition from low cost upstarts upended the industry, and all players were forced to compete in a vastly different market.   Choosing to compete on cost alone, unfortunately, many in the industry forgot about the customer, and were soon no longer in business.
Sound familiar?  The healthcare industry is facing a similar challenge.  A drastically changed market, that in this case, includes lower reimbursements from payers, pressure from the government to increase quality, with patients spending more out of pocket and wanting more control over decisions about their care.
Yet healthcare organizations are still assessing their success by measures that emphasize the bottom line versus what matters to the customer.  Continuing down this path might lead them to make the same mistake as the airline industry - employ a slash and burn approach to the detriment of quality care  and  risk  losing your revenue base.  Repeated layoffs in some markets already signal that some in the industry are moving in this direction.
But, what if rather than focusing on reducing costs alone, healthcare organizations shifted their gaze to focus on the customer?  Companies in other sectors have been doing this for years.  Many of us have been involved in  focus groups for a new consumer-market products, and companies like Toyota have become leaders in their industry by doing just that.  After an initial agreement with the unions in 1950 that resulted in layoffs and financial restructuring, Toyota developed and implemented the Toyota Production System, an operating system by which the creativity of every employee is harnessed daily to solve the problem of providing customers the highest quality products at the lowest possible cost.   Toyota has not resorted to layoffs since.
Defining value from the customer's perspective signifies a major paradigm shift for healthcare industry.  Accustomed to managing to the bottom line and catering only to the needs of its own professionals, leaders in healthcare organizations have lost sight of how decisions impact the ultimate customer.  Thus, resources needed for coordinating care are cut from the budget, OR times are set around surgeon schedules, office hours are set around provider calendars, and unnecessary wait times result from not using professional skills to their fullest extent.
This current paradigm is reinforced by measures developed for a market that rewards volume over what is important to the customer.  It optimizes parts of the system of care at the expense of the whole (what the customer experiences).   As the market shifts toward the new paradigm of rewarding value to the customer, these measures will no longer drive the right strategies to remain viable.
The Toyota Production System was eventually labeled "lean" by a graduate student at MIT, and has been successfully applied in a number of healthcare organizations in the U.S. and Canada.  A key principle of the system is defining value from the customer perspective.
According to John Toussaint, MD, and Leonard Berry, in their article, "The Promise of Lean in Healthcare," published in Mayo Proceedings, the right measures matter because, "Properly executed, Lean clarifies priorities and guides staff in improvement work accordingly. Lean work is focused work; priorities govern investment of improvement resources. A key senior management role in Lean is to prioritize and clearly communicate a small number of strategic goal categories that are relevant throughout the organization and that have the most promise to strengthen the organization and create stakeholder value."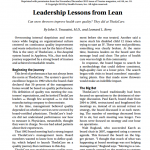 In a more recent article, published in Trustee Magazine titled, "Leadership Lessons from Lean," Toussaint and Berry further explain how the cultural change brought about by lean made a difference at ThedaCare, a multi-hospital healthcare system in northeast Wisconsin.  They speak of how ThedaCare's operating income has remained around or above 4 percent from 2004 to 2009, and about how quality improved during this timeframe.  "The system's physicians were ranked first in statewide quality performance by Consumer Reports. As a Pioneer Accountable Care Organization with Bellin Health, ThedaCare ranked second in clinical quality measures.  And for nearly seven years, there have been no medication reconciliation errors when performed by the pharmacist. These results were possible because a culture of continuously improving care delivery took hold."  In addition, ThedaCare has had the lowest cost increases of any other organization in northeast Wisconsin since 2004.
The measures  matter to the customer.  They tell the story of whether the healthcare facility they choose is a financially viable organization, whether it will it provide patients with high quality care, and whether they will pay a reasonable amount for it.  As the market slowly shifts to rewarding value over volume and toward transparency, is your organization ready to develop measures the customer actually cares about?
Marta Karlov
Director of Education
ThedaCare Center for Healthcare Value