Lean Healthcare in Tanzania: Meeting Demand for High Quality, Affordable Eye Care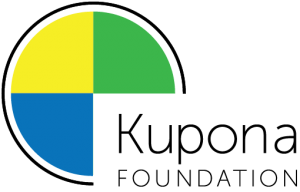 Lean Healthcare in Tanzania: Meeting demand for high quality, affordable eye care
Summary
In a country of 47.5 million people, it is estimated that 3.5 million Tanzanians live with a disability. There are lasting, severe consequences to delayed treatment of physical impairments, including malnutrition for people with cleft lip/palate, painful mobility for people with bone deformities and learning difficulties for people with visual impairments. People living with disabilities also face stigma and significant barriers to participation in society, disproportionately experiencing poverty and exclusion from social and economic activities. It is estimated that only 51% of boys and 42% of girls with disabilities will complete their primary school education, leaving them without the skills needed to find work, support themselves, and contribute to the economy later in life.
The largest provider of disability and rehabilitative services in Tanzania, CCBRT (Comprehensive Community Based Rehabilitation in Tanzania), is located in Dar es Salaam Tanzania, one of the fastest growing urban centres in Africa. Dar es Salaam's population is expected to grow from 3.3 million in 201O to 6.2 million in 2025, an 85% increase. The projected population growth poses a significant challenge for healthcare infrastructure and service delivery, including in eye care. CCBRT serves upwards of 500 patients at its Disability Hospital in Dar es Salaam on a daily basis. As patient demand continues to increase, CCBRT's infrastructure and processes are at risk of buckling under the pressure. Lean healthcare principles have emerged as the key to helping CCBRT meet the needs of people living with debilitating impairments without compromising the organization's commitment to quality.
Background
One of the largest providers of disability and rehabilitation services in the country, CCBRT Disability Hospital conducts over 100,000 patient consultations and over 10,000 specialist surgeries every year. CCBRT's exemplary reputation for quality care in the community has led to significant growth over the last two decades. Combined with rapid population growth and increased health education, demand for services shows no sign of abating.
Kupona Foundation is CCBRT's U.S. based sister organization, mobilizing resources and building strategic partnerships to support the continuation and sustainable growth of CCBRT's programs. Kupona has access to a deep and varied pool of talent in the U.S., which can be difficult for a Tanzanian NGO to access. By convening a community of donors, volunteers, technical experts and advocates, Kupona is able to provide direct support to programs with the potential for long term impact, improving access to high quality healthcare for thousands of people living in poverty in Tanzania. Since 2015, Kupona has helped connect CCBRT with lean experts from the Thedacare network and beyond to support the development of lean improvement initiatives across the organization, combining the knowledge of seasoned lean management professionals with the experience of those on the frontline to develop a relevant and effective program.
The Challenge
CCBRT's Eye Outpatient Department (OPD) is the organization's most sought-after service, attending an average of 300 patients and performing on average 20 surgeries per day. With such high demand, patients face long wait times. On the busiest days, some patients are sent home without treatment. Congestion is exacerbated by the layout of the Eye OPD area, which was not designed to manage high patient volume. Patients face bottlenecks and long lines throughout their visit – from reception through to cash desks, visual testing and the final consultation. Failing to deliver quality care to patients not only impacts the health of the individuals in question, but also demoralizes staff who are committed to providing the best for their patients.
It was clear that for CCBRT to continue to sustain its reputation for quality care in Tanzania, protect the welfare of its staff and patients, and meet growing demand for services, something needed to change. Lean management was the key. With the support of lean experts from the Thedacare network and beyond, CCBRT has applied a comprehensive lean management approach to revolutionize its Eye OPD, a Model Cell that will set the standard for efficiency across the organization.
The Solutions
In 2015, groups from the CCBRT leadership team took part in 10-day training courses at the Thedacare Center for Healthcare Value, led by Dr. John Toussaint. In addition, Kupona facilitated a partnership with lean management consultant Chris Kita, who traveled to Tanzania for five weeks to pilot lean healthcare in their Eye OPD.
Chris shared, "After many years working in the manufacturing industry I was drawn to the field of healthcare because of the opportunity that it provides to have an immediate, tangible and positive impact on people's lives. I served in the Peace Corp at the start of my career, and have worked as a Lean Coach at the Lehigh Valley Health Network for the last five years. I was excited to return to Africa to see how my experience and skill-set could help CCBRT. The Eye OPD had to turn away patients approximately 35% of the time because the demand for services was greater than the medical teams could handle. Our main goal was to develop a process that would prevent patients from having to leave without receiving treatment."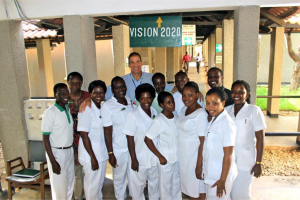 The team hypothesized that more patients could be served in a day if lower cadre healthcare workers were empowered to treat less complicated cases, freeing specialists to focus on more complex care. Two Rapid Cycle Tests (RCTs) were used to test this hypothesis, analyzing the impact of a new triage team, and the decentralization of patient care. Results of the RCTs were promising. Additional triage can be used to filter less complicated cases at an earlier stage. An average of 45% of patients were attended and discharged by the strengthened triage team, and in the first RCT all outpatients had been served by 1:45pm, more than 2 hours before the OPD was due to close for the day.
Following Chris's departure, the vision for a leaner organization continued to develop. Under the leadership of CCBRT's new full time Lean Management Specialist, Mohamed Raef, clinicians and hospital management created a model of the ideal 'future state' of the department. A Model Cell Team consisting of medical staff and staff from HR, IT, Quality & Safety and management was formed in order to take the proposed changes forward. In September 2016, CCBRT closed the Eye Department for five working days to make the necessary structural changes, and staff and clinicians embarked on intensive training and team building activities to complement the new system.
Underpinning the changes in the Eye OPD is a transformation from a 'push' flow to a 'pull' flow. Doctors determine the pace and patients advance through the department based on capacity in the consultation room. In this structure patients only wait at the beginning of the process rather than throughout. Among the other visible changes are tickets upon entry for all patients – who are entered into an electronic queueing system – and the addition of visual testing stations and triage desks with partitions to allow for more privacy between patient and nurse.

The Results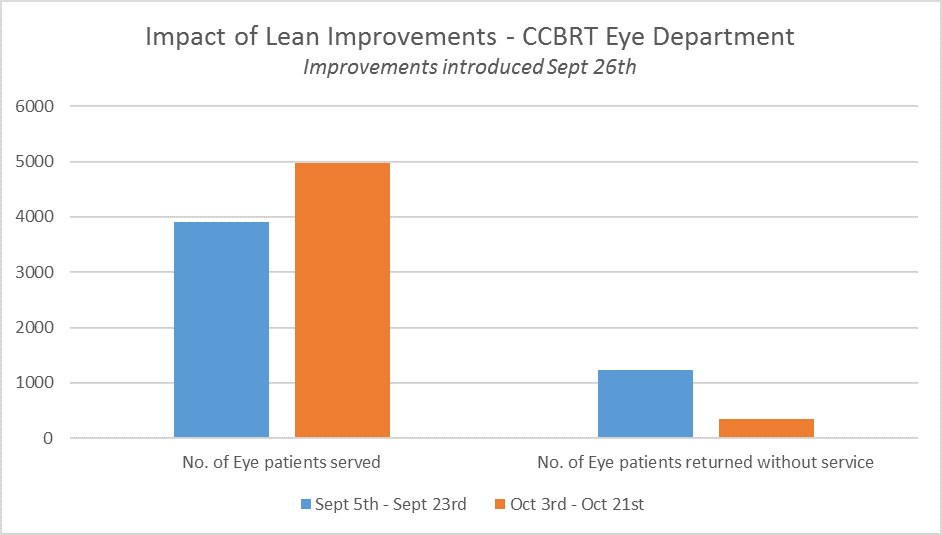 While it is early following implementation of the new and improved process, initial data is extremely positive. Compared to the week before the transformation (September 19th-23rd), CCBRT was able to increase the number of people treated by over 20%. The number of patients being turned away without treatment has also decreased dramatically, with an initial reduction of over 72%. The transformation of the Eye OPD has turned waste into additional capacity, without having to hire additional staff.
Patients have praised the new process. Six months ago, Jennifer visited CCBRT for an initial consultation from one of CCBRT's low vision specialists. She was given a course of treatment to strengthen her vision, and told to come back six months later for a follow up. Jennifer experienced both the old and new systems during her two visits to CCBRT, and described the changes. "Last time I came to CCBRT it was very confusing. I arrived early in the morning and stayed all day, until the hospital closed in the evening. The procedures were not clearly defined and it was frustrating. Now I'm so pleased – the service here is faster and more convenient. There are still a large number of patients, but the nurses and doctors provide services much faster. Things are more transparent now. We are given numbers to wait for our turn. Even if you have the last number, you are still assured you will be served. Today my full visit took just 3 hours."
What's Next?
This is just the start of an exciting new chapter in CCBRT's lean journey, as the impact of the model cell is measured, evaluated, and documented to form a roadmap for change across other departments at CCBRT's Disability Hospital. CCBRT leadership is committed to embedding lean healthcare principles across the organization, and to building a foundation for CCBRT to become a learning organization, with an entrenched culture of continuous improvement and adherence to standards.
A Lean Steering Committee, chaired by the CEO of CCBRT, has been established to guide the organization's lean journey, with participation from core business units (including finance, support services, clinical teams and HR) and technical advice from lean management specialists. As lessons from the Eye OPD transformation continue to emerge, they will be applied to the next focused improvement project: reducing waste and improving efficiency and adherence to standards in the operating rooms at CCBRT Disability Hospital, empowering clinical teams to continue providing high quality, safe surgical care for people with disabilities in Tanzania.
Want to get involved?
Are you interested in supporting the lean improvement initiatives at CCBRT? Your support can help the team build on the foundation established this year, and improve the accessibility of quality services for thousands of patients.
Spread the Word
Sign up to the Kupona Foundation mailing list, and follow us on social media for the latest updates from the field.
Twitter: @KuponaFdn
Facebook: /KuponaFoundation
Instagram: @kuponafoundation
LinkedIn: Kupona Foundation
Support CCBRT's Lean Journey
$60 funds 2 hours of training for a CCBRT leader
$120 funds a half day lean workshop for CCBRT's Model Cell team
Contact Alexandra Cairns, External Affairs Manager, to learn more about the journey:

[email protected]

, +1 518.595.9007
Visit kuponafoundation.org/donate, or send a check payable to 'Kupona Foundation' to 12 Bensonhurst Avenue, Saratoga Springs, NY, 12866
Kupona Foundation is a 501(c)(3) registered non-profit. All donations are tax deductible to the extent allowed by law.