Fifth Annual Lean Healthcare Transformation Summit Highlights


Innovative Leaders and Pioneers
"It is no longer the question of why we need change in healthcare, it is how to change," stated Helen Zak, president and COO of the ThedaCare Center for Healthcare Value in her opening remarks at the Fifth Annual Lean Healthcare Transformation Summit held June 4-5, 2014 in Los Angeles.   Hosted by the ThedaCare Center for Healthcare Value and the Lean Enterprise Institute, the focus of this year's annual event showcased how real leaders and real organizations are making substantial and sustainable change in the healthcare industry.  Over 600 healthcare industry leaders representing 43 US states and  five countries descended on sunny downtown Los Angeles for two exciting days of learning, sharing, and connecting.
Keynotes
Starting with the question, "What are leaders doing right?" John Toussaint, MD delivered his keynote address.  He congratulated attendees for creating a movement in the healthcare industry and outlined an emerging core set of ideas about the lean healthcare transformation that are building momentum.  They include:  asking the right questions, using model cells, adopting the Shingo core principles of lean, managing by process rather than by objectives, establishing a lean central office, changing the payment model, and aligning systems.   Highlighting his keynote was video footage of a world class model cell at the Bellevue Surgery Center at Seattle Children's Hospital and another at his primary care physician's office, both showing the ideal state of a one-piece-flow.
A new perspective on the lean healthcare movement came from Patrick Conway, MD, Deputy Administrator for Innovation and Quality, and Chief Medical Officer of the Centers for Medicare & Medicaid Services.  He shared what the government is currently doing to change the industry and how the public and private sectors can collectively work together to develop higher performing systems.  He focused on payment systems, innovations, and Accountable Care Organizations.
In her keynote address, Kim Barnas, author of the recently published Beyond Heroes, outlined how ThedaCare redesigned its system of daily management.  Known as a lean experimenter, Barnas and her team helped develop the ThedaCare delivery system steered by the organization's true north metrics which center on improving the health of patients and their families in the areas of safety, quality, people, and financial stewardship.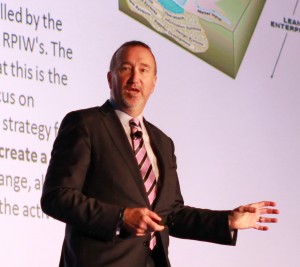 James Hereford, COO at Stanford Hospitals and Clinics, provided an overview of how his organization is successfully creating ownership of processes by the frontline and how this has radically transformed their culture.   "Employees of an organization need to be engaged, and by owning their processes, they can be successful.  Active daily management pushes responsibility down into the organization where action can happen – to people who are at the point of value."
John Shook, chairman and CEO at the Lean Enterprise Institute, author of Learning to See, and Managing to Learn, provided the final keynote address of the Summit.  He spoke of how lean in healthcare is winning battles with the focus on a management system in which a leader's 'solution' mindset has been transformed to a 'questioning' mindset.   In a successful lean transformation, all members of an organization are coached to engage in problem finding.  He stated, "Hiding problems is the worst illness of an organization.  We elevate problems because we want to see them.  If we cannot see them, we cannot solve them."
The Summit featured over 20 presentations from Healthcare Value Network and Clinical Business Intelligence Network members.  Many of these network members have been on the transformation journey for several years, and a major focus of the Summit is to showcase their experiments –both the successes and failures.  The mission of both the HVN and CBIN is to accelerate transformation through peer-to-peer learning.  We were able to highlight these learnings for Summit attendees through the CEO Panel and the Learning Sessions.
CEO Panel
Returning by popular demand, day two of the Summit featured a CEO panel of three top leaders answering questions from attendees.  The questions centered on transparency, redesign, and payment reform.   The panel was moderated by Mark Graban, an internationally recognized consultant, author, and keynote speaker.  Members of the CEO panel were:
o   Maura Davies, president and CEO of the Saskatoon Health Region, Saskatchewan, Canada
o   Laura Easton, president and CEO at Caldwell UNC Healthcare Inc. in Lenoir, NC
o   Kathryn Correia, president and CEO at HealthEast Care System in St. Paul, MN
Learning Sessions
Summit participants also were invited to attend a variety of learning sessions, examples included:
o   Innovating the Patient Experience using Lean
o   Akron Children's Hospital's Blueprint for Healthcare Design
o   Application of the HVN Acceleration and Assessment Model
o   Linking Clinical Business Intelligence
o   Integration of Lean and Business Intelligence at Salem Health
o   You are a Leader
To view the Summit videos later this year and to receive future communications from the Center SIGN UP HERE. Save the date for next year's Summit in Dallas, TX on June 3 and 4, 2015. Learn more here.