Mission & Values
Mission
To redesign three interdependent components of the healthcare industry which will result in improved value for patients. We will accomplish this by collaborating with patients and leaders in the provider, employer, insurer, and government communities to create: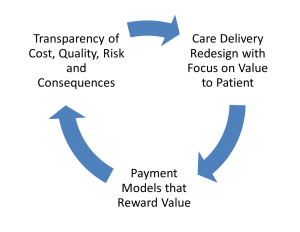 Vision
Our vision is to transform the healthcare industry to deliver higher value through experiments, collaboration and education that integrates the three interdependent components and spreads learning and accelerates improvement.
Values
Continuous learning
Honesty
Integrity
Courage
To improve healthcare, we must develop a better understanding of the relationship of quality and cost — a combination that we like to call "Value."
Value = Quality / Cost
As the equation shows us, we must focus both on improving quality and on controlling cost in order to create value. A focus on value cannot be limited simply to healthcare leaders. Everyone — from the frontline physicians and nurses, to the payer, to the employer and the patient — should commit time and energy into defining true value.
Only by keeping our eyes on this value equation can we achieve sustainable change in healthcare.