Leveraging Information, People & Systems in Healthcare
Do operational departments in your organization find themselves competing for IT resources to support improvement work?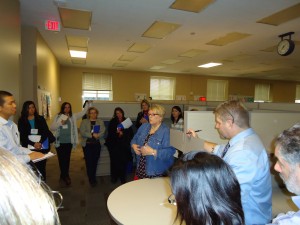 When IT and enterprise leaders understand the core principles and concepts of lean and how they can be applied to IT operations, as well as support the lean initiatives throughout the organization, they become a key enabler of the lean transformation.  During this program participants will experience a combination of classroom education, exercises, and will participate in a "gemba" walk ThedaCare's IT department when held in Appleton. During the visit they will observe how teams have applied the scientific method for problem solving and collaborating to deploy resources in a manner that is aligned with organization priorities.
Key objectives for participants include:
Understand the operational excellence principles that drive lean transformations.
Learn how to practice scientific thinking for team-based problem solving.
Articulate how visual management can improve performance and state a clear case for IT value.
Describe how to optimize work processes in IT and the enterprise.
Witness the application of lean for project intake management and prioritization.
 Build a roadmap for the lean transformation of IT to enable and enhance value delivery by the organization.
Duration: 2 Days
Faculty:   Mike Orzen, co-author of "Lean IT, Enabling and Sustaining Your Lean Transformation"
Who Should Attend:  Enterprise and IT leaders in the healthcare industry
This education experience is also available for onsite delivery for your teams upon request. For more information, please contact Marta Karlov, at 920-659-7472.