The Forum is an invitation-only series for nurses who also have a leadership role in healthcare transformation. While nurse leader titles may vary, this forum is for leaders who are seeking to understand their roles, their scope of influence, and the mindset, skillset and toolset required for successful and sustainable lean transformation.  The curriculum is a balance of individual work and self-discovery, interpersonal skills practice and team development and support.  It is a committed ongoing network in which nurse leaders can learn, share and connect in a safe environment which they are co-creating.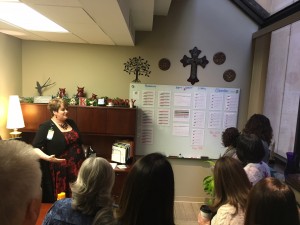 The Forum is anchored in the belief that transformation starts with the leader, and that lean is both a personal and an organizational transformation. Through the work of our CEO and Physician Lean Leader Forums, we have identified crucial leadership behaviors and competencies which are necessary to lead a successful and sustainable transformation.  Nurse leaders have a unique and vital perspective in healthcare transformation, coupled with significant scope of responsibility across very large teams.  This forum is intended to cultivate and support this perspective and the behaviors needed to accelerate organizational and industry change.
As a part of the Forum, participants will conduct a self-assessment in which key leadership behaviors are rated. Participants create personal A3s, which are updated and discussed each time the cohort meets. The intention is that all leaders will identify and trial transformational experiments around their own behavior to work on between sessions. In addition, content around leadership development and leadership style will be explored and developed with participants.
The Nurse Lean Leader Forum will meet twice a year.
MetaStar, Inc. is an approved provider through the California Board of Registered Nursing, Provider #CEP 17010. MetaStar, Inc. is an approved provider of continuing nursing education by the Wisconsin Nurses Association, an accredited approver by the American Nurses Credentialing Center's Commission on Accreditation. MetaStar, Inc. is the approved provider jointly providing CNE for this learning activity with Catalysis. The number of contact hours to be awarded is based on the specific agenda for each session.
For more information, contact Pam Helander at [email protected].