The premier event for healthcare leaders, the 9th Annual Lean Healthcare Transformation Summit offers the latest insights in how to create sustainable organizational change.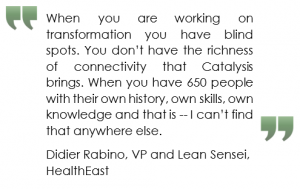 Catalysis Healthcare Value Network members will share their learnings, discuss their cultural transformations and help you discover strategies to transform your healthcare organization, reduce costs, create value and ultimately enhance quality and patient care. This Summit provides the information and collaboration opportunities you need to be successful in your organization's journey.

REGISTRATION IS NOW OPEN!
Lean Healthcare Transformation Summit Highlights
Keynotes from progressive healthcare practitioners and thought leaders within healthcare and the lean community, designed to challenge conventional thinking.
Concurrent Learning Sessions offer practical advice in small interactive sessions where you learn, discuss, and reflect.
Pre-Summit Workshops build skills or introduce concepts you need to make your healthcare organization transformation successful and sustainable.
Limited attendance gives you ample time for discussions and follow-up questions.
Summit networking is a high priority with breaks, receptions, and luncheons providing many formal and informal ways for you to connect with counterparts who are tackling the same challenges you face. Don't forget your business cards!
Complete information on continuing education credits, provided by MetaStar, can be found here.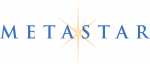 See what previous Summits have offered!