Dean Gruner, MD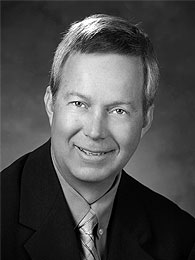 President and CEO, ThedaCare
Dean Gruner, MD, is the president and CEO of ThedaCare, Inc. ThedaCare is a community-owned health system consisting of Appleton Medical Center, Theda Clark Medical Center, New London Family Medical Center, Riverside Medical Center in Waupaca, ThedaCare Physicians, and other health care services. Since 2003, he has served as chief medical officer and sr. vice president of ThedaCare, which is the largest employer in Northeast Wisconsin with nearly 5,400 employees. ThedaCare's service area spans 14 counties.
Dr. Gruner has served in multiple leadership positions with ThedaCare or its affiliates since it was founded as Novus Health Group in 1987. He was one of the founding physicians of Touchpoint, and was a practicing family physician with Family Doctors, S.C., which affiliated with ThedaCare in 1994.
Along with Dr. John Toussaint, former ThedaCare president and CEO, Dr. Gruner participated in the design and formation of the Wisconsin Collaborative for Health Care Quality (WCHQ), which publicly reports on the performance of healthcare organizations in Wisconsin.